Wimzie's House Gallery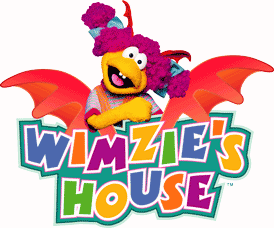 Wimzie's House is an American / Canadian children's television program which ran on Radio Quebec from 1995 to 1996.[1]
The show revolves around Wimzie, a four-year-old bird-dragon monster girl, who attends a daycare in her house run by her grandmother, a bird named Yaya, since her parents, Rousso (a dragon fireman) and Graziella (a bird pilot) work full-time. The other kids are Jonas (a nerdy goblin), Horace (a dimwitted ogre), Bo (Wimzie's little brother), and Lulu (Jonas' hyperactive little sister). Each show revolves around the kids facing a moral or social dilemma and learning how to deal with it.
There are a total of eight characters and one location in the show. Characters that are often mentioned (such as the neighbors, Wimzie's relatives, and other kids in the neighborhood) don't make any appearances.
Main article: List of Wimzie's House episodes
Voice cast
Edit
Production
Edit
Coming soon!
Legal troubles
Edit
In 1999, the Jim Henson Company issued a lawsuit against the company, claiming the series' puppets and resultant merchandise violated its copyright and trademark rights on The Muppets. CINAR and its licensees Eden LLC and Carson-Dellosa Publishing Company denied and continue to deny any wrongdoing or liability for infringement.
A confidential settlement allowed CINAR to continue broadcasting the series, selling show merchandise, and a "mechanism for preserving the distinctive look of Jim Henson's Muppets in CINAR's future productions."
Ronald A. Weinberg, CINAR President and Co-CEO:
"We are delighted that it's been settled and that the agreement leaves an open door between the two companies. It's also good news that WIMZIE'S HOUSE will continue to enjoy such a broad audience on PBS in the U.S. and on other channels in over 100 countries around the world. Furthermore, it means that the licensing initiative we launched last year will continue to flourish with both established and new licencee partners."
―Ronald A. Weinberg
Video releases
Edit
Babies Have It Made
Happy Holidays
It's Magic Time
Pet Tales
You're Special
DVD releases
Edit
On July 27, 2000, Mill Creek Entertainment released a 10 episode Best-of collection entitled Wimzie's House: A World of Enchantment on DVD in Region 1.[2]
References
Edit
This Wiki is in the process of major renovation, please bear with us. We are aware that sources are very important to Wikia and make every effort to be decent in this pursuit :) Thanks for your understanding
External links
Edit
Cite error: <ref> tags exist, but no <references/> tag was found
Community content is available under
CC-BY-SA
unless otherwise noted.