Truths Duckieland Do Punky Christmas was a Punky Brewster title to spend Christmas with all Punky's friends. Top title, outro two. 2 sponsors on this: "H", 8. It talks about where Punky's friends from school put a Christmas pageant, stuff on the play. The end credits feature The Twelve Days Of Christmas (album) from 1991 with fourteen holiday songs.
Catalogue Number: 6528
Title Date: October 20, 1985
Plot
[
]
Punky's friends at school put a Christmas pageant.
Picture
Segment
Description
COLD OPEN
Clover says that today Punky's friends from school put a Christmas pageant for a fantastic play.
FRAME 1
It was part 1. Here, Mrs. Mortin gets ready to perform a terrific Christmas pageant. Punky was her narrator in "The Saddest Raindrop" starring Marko and Cherie, fun raindrops. Punky gets ready to celebrate while the instrumental version "We Wish You A Merry Christmas" plays. Punky thinks her card sounds awesome. Soon Henry got 2 Christmas cards Punky gave last year. Soon Mrs. Mortin thought that Christmas is the fantastic time of the year. That means school is closed till next year when it's time for Punky's school to reopen.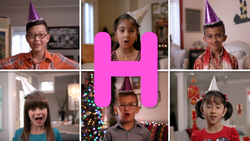 Film
Young, Divia, Katie, Taya, Ian, and Luca talk about their favorite holidays sharing H for holiday. Young's holiday is Korean Harvest Moon festival, Divia's favorite holiday is Diwali, Katie's favorite holiday is Chinese New Year like they usually do it for February, Taya's favorite holiday is Rosh Hashana, Ian's favorite holiday is Eid, and Luca's favorite holiday is Christmas.
(EKA: Episode 4907)
Used from the PBS Kids version of the Christmas special "Once Upon A Sesame Street Christmas"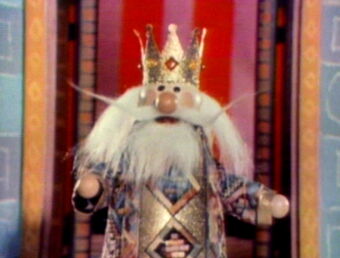 Cartoon
The King Of Eight
(EKA: Episode 0225)
FRAME 2
It was part 2. Henry tells Mrs. Johnson that Santa won't be coming but he has to go find Punky's mother. It was time to wrap up Christmas presents while Henry was on the phone to this here about the avenue to check again. Henry wishes Punky, Cherie and Grandma merry Christmas. Next year Punky wanted her to play Duckieland.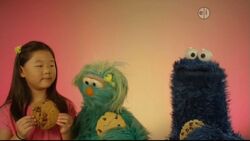 OUTRO 2
Cookie Monster instructs the viewer on "the art of cookie eating", with aid from Rosita and a girl. Hey, You're Back. You Know, There Are So Many Amazing Creatures That Live Here In The World Tree. Yeah, We Got Marmosets, Anteaters, Turtles, Monkeys, Birds, And Some Frogs. And You. Yup, You're An Animal, Too.
Credits
[
]
Writer By: Mitchell Kriegman
Directed By: Tom Cooke
Cast
Punky: Soleti Moon Frye
Clover: Holly Gauthier-Frankel
The Twelve Days Of Christmas (album)
The Twelve Days Of Christmas
Jingle Bells/Sleigh Ride Through The Snow
Christmas Together/O Christmas Tree
Dear Santa
A Gift Of Love
Here We Come A-Caroling/We Wish You A Merry Christmas
Snow Ho-Ho
Santa Claus Is Coming Tp Town
Downtown Holiday Hullaballoo
I'd Like To Have An Elephant for Christmas
Deck the Halls
He Delivers
Around The World Christmas
The Twelve Days Of Christmas (Reprise)
Special Thanks To: Mitchell Kriegman, Frieda Lipp