Program date: March 20, 1994
 In it, it shows a blue sky background just like in Season 23 to 29 with Big Bird's voice-over saying the title before the theme song. Also, some of the songs are performed by various celebrities such as Little Richard. Songs by celebrities they include were "Adventure" by En Vogue, "That's The Letter O" with Queen Latifah, "C Is For Cookie" with Marilyn Horne, "I Don't Want To Live On The Moon" with Aaron Neville, "My Name" with Maya Angelou, "Monster In The Mirror" by Grover with various celebrities, "Elmo And The Lavender Moon" with Los Lobos, "New Way To Walk" with The Oinker Sisters, and "Sing" with Ladysmith Black Mambazo. The credits are also slightly different but longer. Released in a slightly different form on video as Sesame Street: 25 Wonderful Years on October 29, 1993, the program was shelved for its broadcast premiere on PBS until 1994, during pledge drive season, and in many markets, aired as part of a marathon block with Sesame Street Visits the Firehouse, Put Down the Duckie, and A New Baby in My House. The program was a companion to the prime-time network special, Sesame Street All-Star 25th Birthday: Stars And Street Forever! aired on ABC. The broadcast and home video versions have the same linking footage but different clips. Sesame Street Jam focused on celebrity segments, many coming from segments filmed for the 25th season; A Musical Celebration replaced most of these segments with classic Sesame Street songs. However, they both end with the cast and Ladysmith Black Mambazo performing "Sing".
SCENE 1
Big Bird, Prairie Dawn and Telly watch as everyone expresses themselves with music, dance and other talents. Big Bird is reminded of a quote his Granny Bird told him, "The whole world is a stage." Prairie gets the idea to put on a show. Prairie assures them that their search will be an adventure!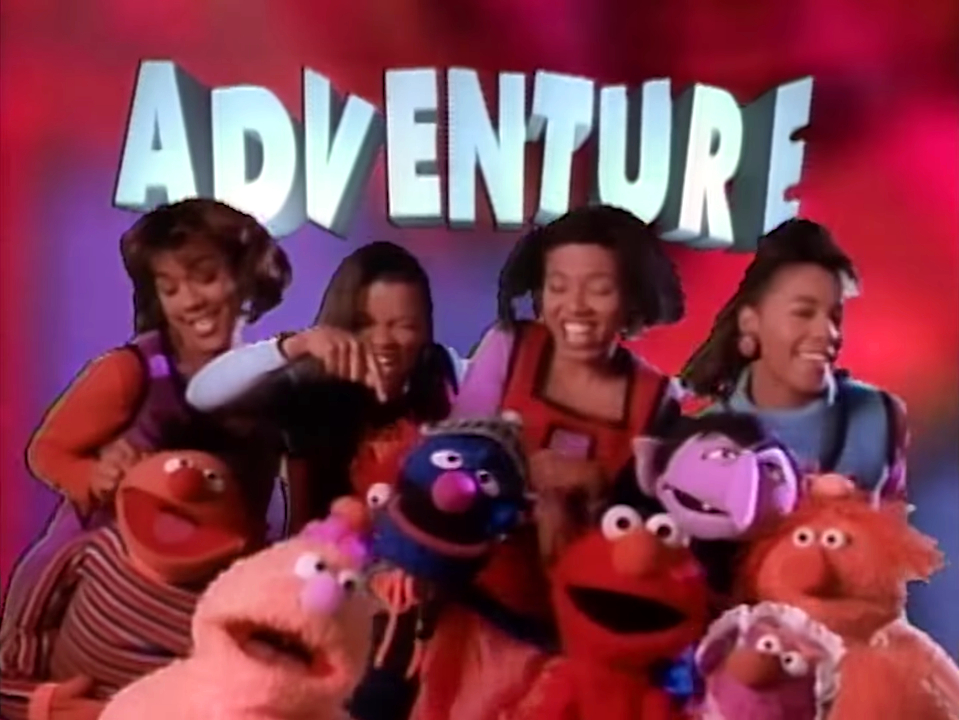 Song
En Vogue sings "Adventure."
(EKA: Episode 2951)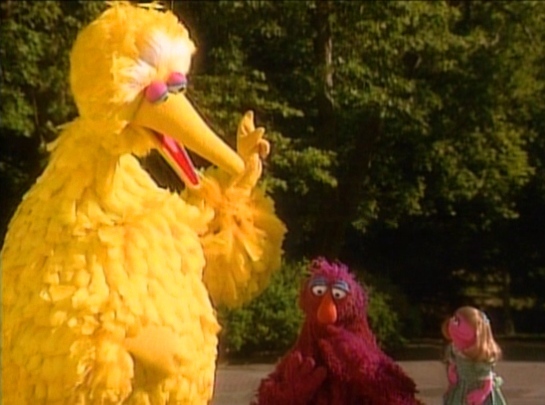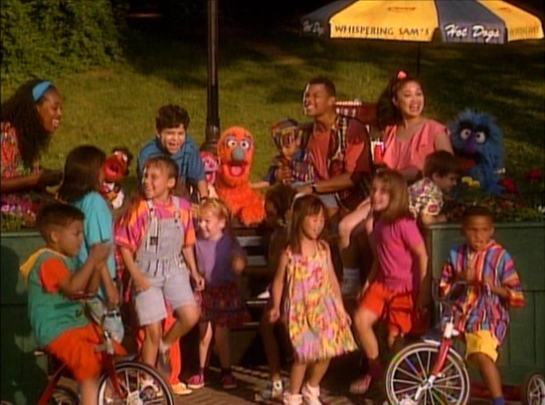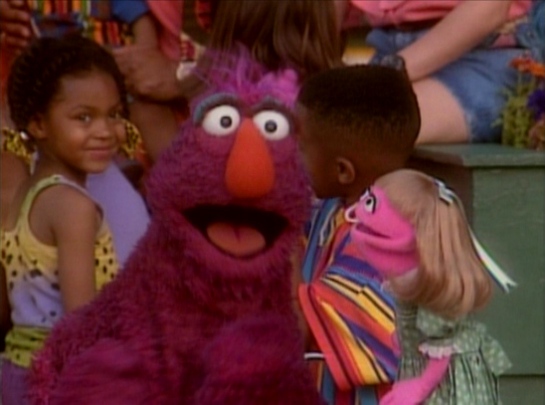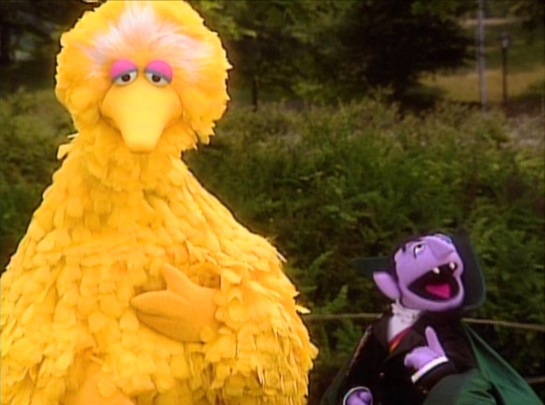 SCENE 2
They split up their duties - Telly and Prairie will look for dancers and musicians, while Big Bird looks for "la-la"-ers. Telly and Prairie come across Jamal, Angela, Celina, Carlo, the kids and other Muppets singing an a capella version of "Do-Op Hop." They've found their singers for the show! Big Bird has formed a "LA LA LINE" to audition la-la-ers. After a failed audition by Humphrey and Natasha, the Count steps up, not wanting to la-la, but to count those in line. Big Bird thinks his day will drive him batty, cuing the next song.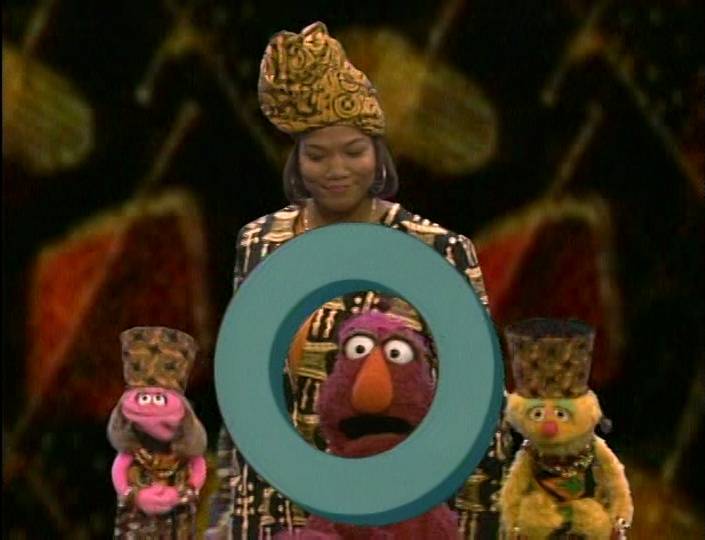 Song
"That's the Letter O" with Queen Latifah (additional sound effects added)
(EKA: Episode 3066)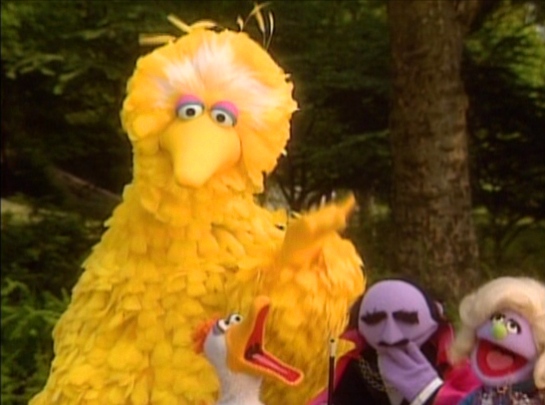 SCENE 2 cont'd
Big Bird's next audition is with a duck. The duck happens to belong to The Amazing Mumford, who knows a spell that will make everyone la-la. Although, when he tries it, the spell instead makes them quack.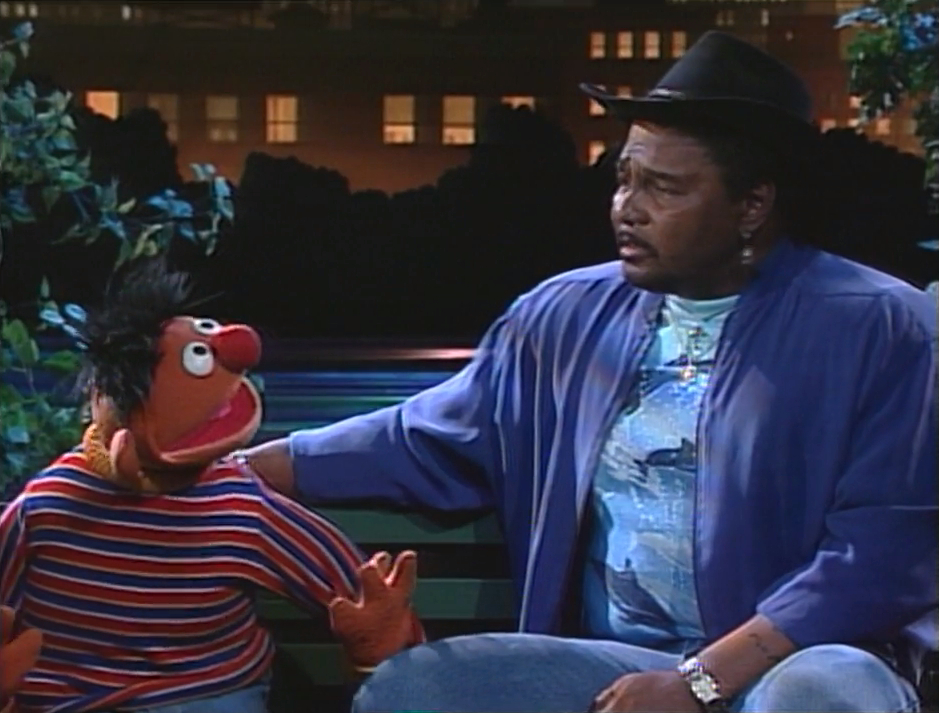 Song
Ernie and Aaron Neville sing "I Don't Want to Live on the Moon."
(EKA: Episode 3242)
SCENE 3
Telly and Prairie report to Big Bird that they've found some singers. Big Bird responds he's having some trouble finding his la-la-ers. Telly wonders if it's as hard as finding a letter C, the third letter in the alphabet.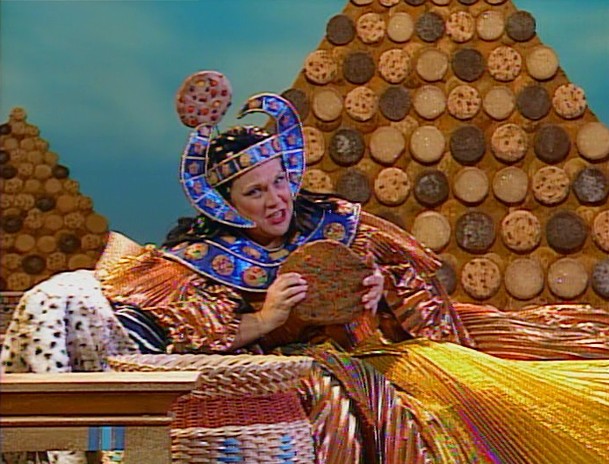 Song
Marilyn Horne sings an opera version of "C is for Cookie."
(EKA: Episode 3189)
SCENE 3 cont'd
Big Bird is glad Telly found is letter and wonders when he'll have the same success in finding la-la-ers.
Song
Maya Angelou sings "My Name" with Lexine, Carlo and Elmo. (introduction cut)
(EKA: Episode 3139)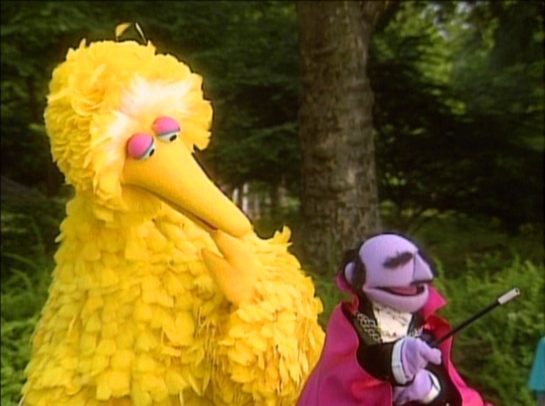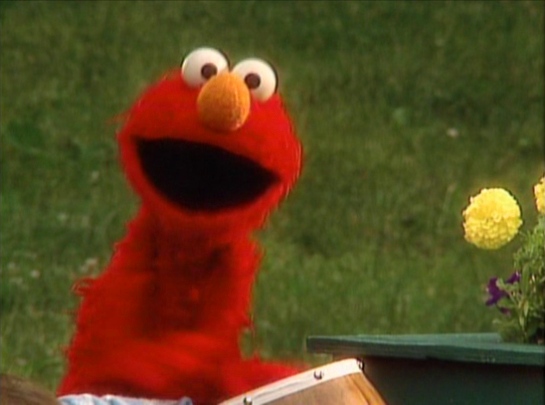 SCENE 4
Mumford tries his trick again, but makes people "baa-baa" like sheep. Telly and Prairie now find a jam session going on and think they're the musicians they need. Elmo, playing the drum, comments that playing it is almost as easy as looking at the mirror just for monsters.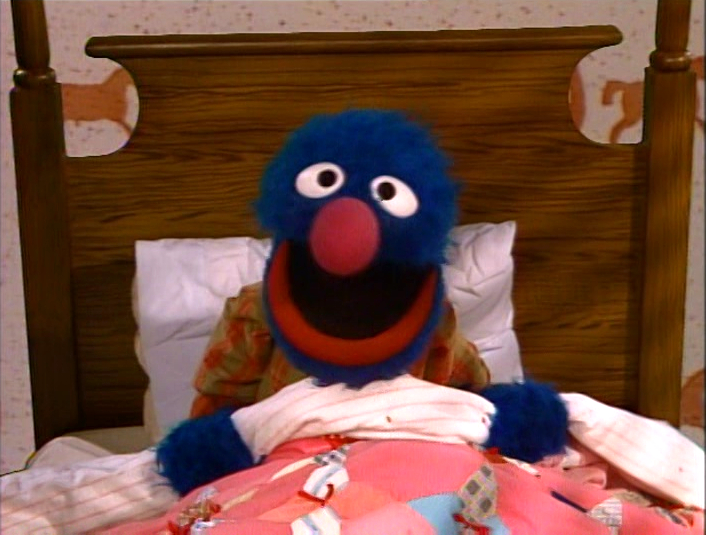 Song
Grover sings "Monster in the Mirror." (celebrity version) ("Simpsons" ending cut)
(EKA: Episode 2835)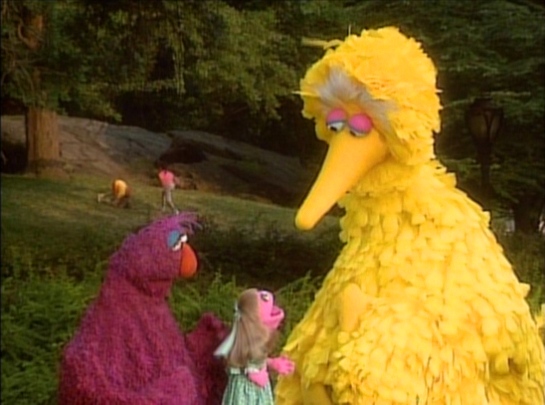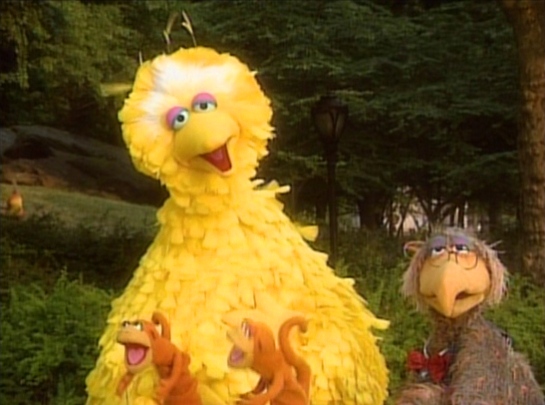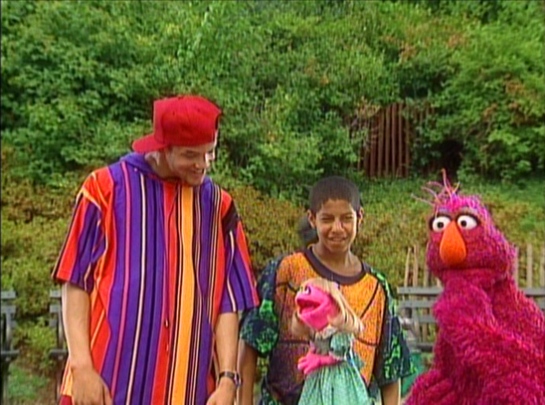 SCENE 5
Telly and Prairie ask Big Bird if he'd like to help them find dancers, but he's busy with his line. The next auditions don't do well, and Big Bird remarks he'll go bananas. Joey and Davey Monkey pop up at the mention of "bananas." Prairie and Telly run into Jason and Savion while looking for dancers. Savion tells them that there are dancers everywhere in the park. Prairie comments at all the people dancing. Telly simply states, "And moons, too!"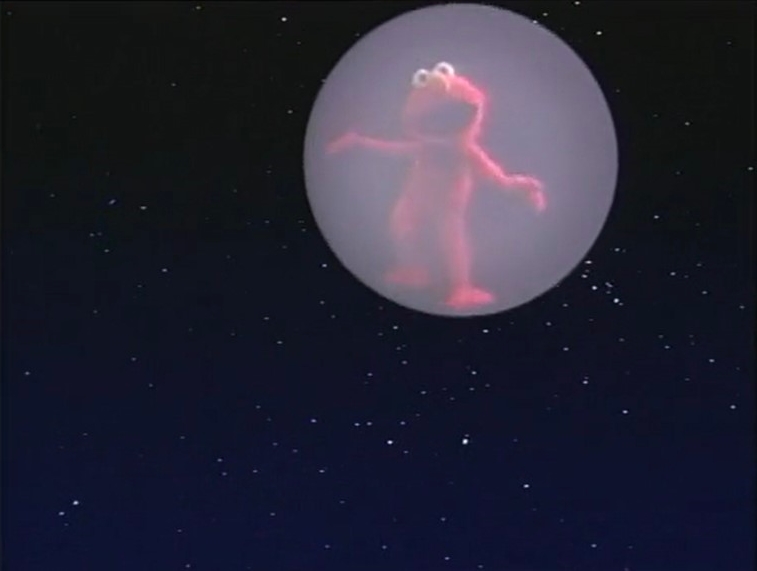 Song
Los Lobos sings "Elmo and the Lavender Moon."
(EKA: Episode 3101)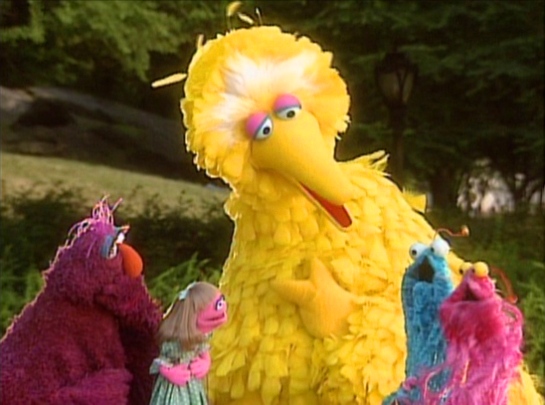 SCENE 6
Big Bird shows Telly and Prairie Dawn the la-la-ers he's chosen - The Martians. He tells them they're going to become stars, causing the Martians to vanish for the stars in space.
Song
"Rubber Duckie" with Little Richard. (introduction cut)
(EKA: Episode 3309)
SCENE 7
The next la-la-ers in Big Bird's line is a man who plays accordion, while a chicken clucks. Big Bird begins to lose hope.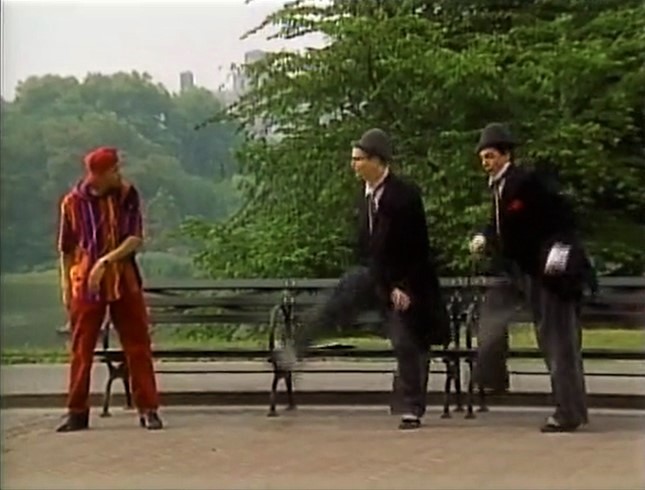 Song
"A New Way to Walk"
Celebrity version
(EKA: Episode 3233)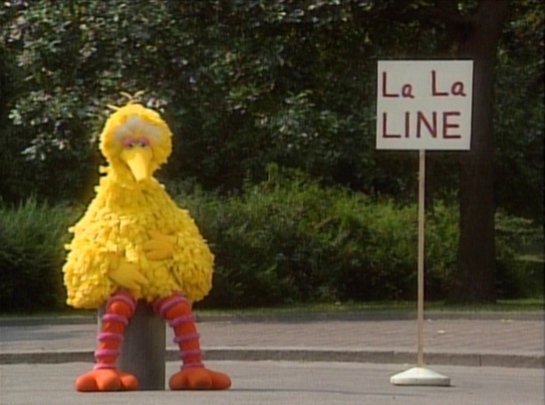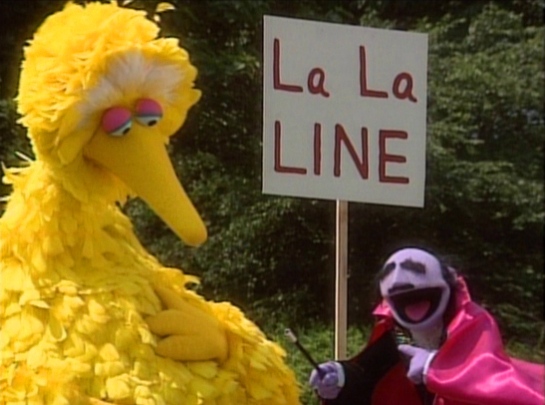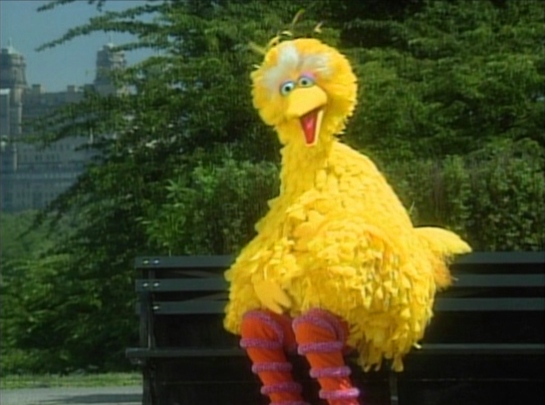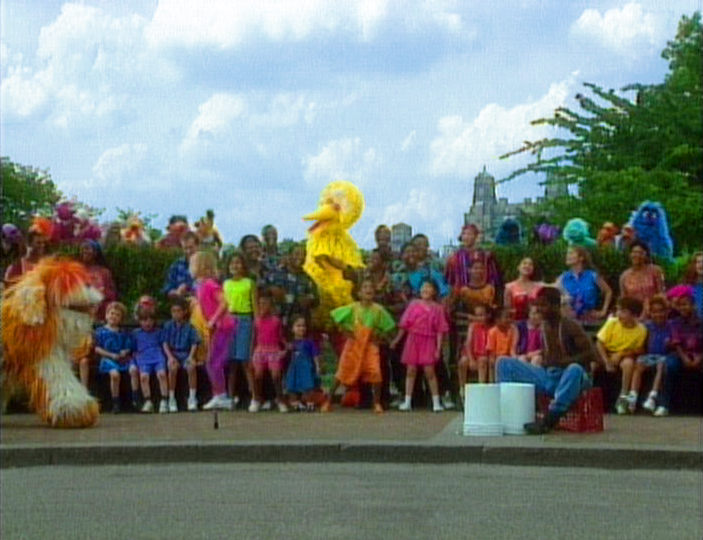 SCENE 8
Big Bird's line is now empty. Mumford tries his trick again, but no one's around to be entranced by it. Big Bird slinks over to a bench and begins singing "Sing" to himself. Ladysmith Black Mambazo immediately answers with a chorus of la-las, exactly what Big Bird's been searching for. Mumford tries his trick again, summoning all of Big Bird's friends to sing with him.
Community content is available under
CC-BY-SA
unless otherwise noted.