Spring Begins Carnival Chao Songs From Sing Along is the Cyberchase computer program based on the show on PBS Kids. Title fun, outro one.
Catalogue Number: 6319
Title Date: January 19, 2003
Picture
Segment
Description
Join Jackie, Matt, Inez, and the wacky cyberbird Digit as they embark on a carnival adventure to stop the dastardly villain Hacker from taking over the virtual universe. The kids learn that math is fun, it's about problem solving, and boy, does it come in handy!
"John Jacob Jingleheimer Schmidt", "Stand Up And Pinch Your Nose", "Sing After Me", "Alphabet Song", "We All Sing With The Same Voice", "Cheer Up", "Sing", "Old MacDonald", "Rubber Duckie", "Doin' The Pigeon", "What's The Name Of That Song". Voices on this: Caroll Spinney as Big Bird and Oscar, Kevin Clash plays Hoots the Owl, Frank Oz performs Grover and Bert, Roscoe Orman played Gordon, Sonia Manzano simply Maria, Nothern Calloway played David, Linda Bove simply Linda, here Alania Reed plays Olivia, Loretta Long played Susan, Emilio Delgado played Luis, Bob McGrath played Bob, Jerry Nelson played Biff, Farley and the first head of the 2-Headed Monster, Camille Bonara played the fun Anything Muppet girl, Richard Hunt played Sully and the second head of the 2-Headed Monster, Jim Henson played Ernie, great guest Madeline Kahn.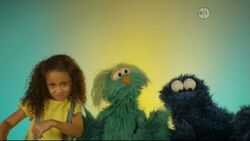 OUTRO 1
Cookie Monster, Rosita and a girl dance fast and slow. Hmm Hmm Hmm Hmm Hmm. Hey. There Are So Many Cool Animals In The Big Big World And So Many Great Facts To Know About Them. One Way To Find Out More Is To Read. Go To Your Local Library And Get A Book About Your Favorite Animal.
Community content is available under
CC-BY-SA
unless otherwise noted.