Salvatore's With Miss Deb Say No: Lunch Boat Sails Remember was a Punky Brewster title from 1985. 2 sponsors on this: "O", 7. A title, outro three. It talks about where girls learned that saying no was a good thing there about saying no. Throughout the program, that Dance With The Teletubbies VHS and the Sesame Street Get Up And Dance program can be seen on the background because Kevin watched some from Dad's birthday. The end credits feature Sesame Street Sing-Along.
Catalogue Number: 6851
Title Date: May 19, 1985
Punky learned that saying no was a good idea to say no.
Picture
Segment
Description
COLD OPEN
Clover tells viewers that today will be about saying no.
FRAME 1
Mrs. Johnson and Cherie came by here along with Cherie's cool skates great to skate around. Punky tells Mrs. Johnson that getting bigger and bigger and bigger but it wasn't enough to stop it. Henry learned that Punky simply got real upset they didn't know what to do for now.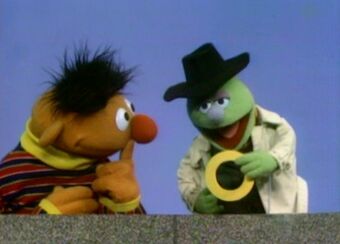 Song
"Would You Like To Buy An O?"
(EKA: Episode 0364)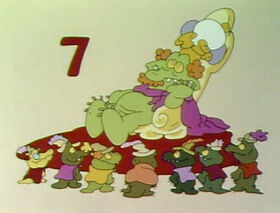 Cartoon
The Alligator King
Artist: Bud Luckey
(EKA: Episode 0411)
FRAME 2
That afternoon Cherie took Punky to visit four ladies to show around the treehouse. Everyone worked together then also tells them there will be tomorrow's fun meeting. Soon Cherie and Punky came back. They also used treehouse full of fun meetings. Everyone cracked some eggs then used some ketchup and fantastic mustard here and some radish then they scooped together then Cherie and Punky drank together, but that drank sounds disgusting. "Yuck!" two girls bellowed. Everyone stated, "I State Your Name, Promise My Most Precious Promise, To Maintain My Cool At All Times, To Pray Every Night At The Michael J. Fox Doesn't Get Taller, And To Hang With The Chiclets Through Good Times And Bad." At Punky's School, Mr. Mike came to visit Punky when he wrote his word Arithmatic but it's pretty hard to spell and say it. Here, Robosoft Six tells Clover about sad news where Miss Deb went to lunch at Salvatore's. This also knows that octopuses don't watch Super Why unless Cole and Tiptie can watch that show here. Everyone knows that they're not wimps. Soon at Punky's school, Punky's friends helped everyone put a sign said "Just Say No Clubs" on the wall. Everybody sees Punky to a crowd. There were balloons, crowds, and the show hosted by Punky. Everyone chants how to say no.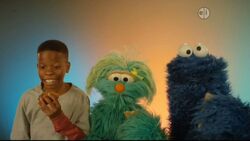 OUTRO 3
Cookie Monster recites a poem about being kind, and demonstrates kindness by sharing a cookie with Rosita and a boy. Hey. I Just Love How Different All The Creatures That Live Here In The World Tree Are. You Can Meet A Lot Of Different Animals, Too. Visit The Zoo, And, Maybe You Can Come Back And Tell Me About Some Animals That I've Never Met. See Ya.
Writer By: Mitchell Kriegman
Directed By: Tim Lagasse
Cast
Punky: Soleti Moon Frye
Clover: Holly Gauthier-Frankel
Lefty The Salesman: Frank Oz
Sesame Street Sing-Along
Let's Sing A Song That Everybody Knows
Let's Go Driving
This Old Man
Sing After Me
Sesame Street Theme/People In Your Neighborhood
Six Little Grouches
Tongue Twister
Join Into The Game
Bingo
Take Me Out To The Ballgame
I Got Me A Rooster
Rubber Duckie/I Love Trash/Everyone Makes Mistakes
Hush Little Baby
There's A Hole In The Bottom Of The Sea
The More That We're Together/Let's Sing A Song That Everybody Knows
Special Thanks To: Mitchell Kriegman, Dean Gordon
Community content is available under
CC-BY-SA
unless otherwise noted.