Right Time For All Dogs Go To Heaven Activity Center is the 1996 program based on the All Dogs Go To Heaven movies. Fun title, outro two.
Catalogue Number: 6322
Title Date: July 6, 1996
Picture
Segment
Description
Join the whole gang from the All Dogs Go To Heaven movies.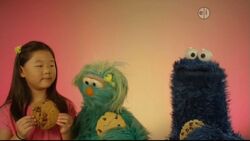 OUTRO 2
Cookie Monster instructs the viewer on "the art of cookie eating", with aid from Rosita and a girl. Hey, You're Back. You Know, There Are So Many Amazing Creatures That Live Here In The World Tree. Yeah, We Got Marmosets, Anteaters, Turtles, Monkeys, Birds, And Some Frogs. And You. Yup, You're An Animal, Too.
Community content is available under
CC-BY-SA
unless otherwise noted.