Quite God Sarah Cartwheel Sharing One: Visitor Bet-Crumbs is the 1994 program in which kids talk about ways God loves they also sing along just to it there to it first said.
Catalogue Number: 5053
Title Date: July 9, 1994
Picture
Segment
Description
STORY
Kids boys and girls sing "This Is The Day" to rejoice God there. Two girls were playing jump-rope with Jenny. Jenny thanks all the people to make them possible. Jenny tells Susan that if they snooze they lose. They also teach that love's letter in the song "Love Letter". Jenny learned that B-I-B-L-E was a cool way to spell Bible. Soon enough Sam and Jeff came. They were interrupting kind of training. The other guys learned that girls are better than sports. Soon Mitch came by. They also talk about God's love by reading the bible in the song "What Book" that answers this question that tells God and his son Jesus. Mitch used his football simply a fun shot. He leads the gang for a fun song simply "Only One" that there's just one God. Jeff tells Mitch that they all just have Jesus in their hearts by leading them in a song "Change My Heart O God" (which the music plays there Clover in voice-over that in the second episode of the 6:30 show Super Why episode 2 Hansel And Gretel story answer is Ask First where Alpha Pig used his magnifying glass to follow those alphabet crumbs). Mitch knows that around the pole through the monkey bars out of the sandbox down the slide first lay-up nothing but that. Mitch tells him that trust Jesus simply bow their head repeat after them. "Dear Jesus, I Trust You How To Save Me, Please Live In Me, And Make Me More Like You. Amen." All that love just first made simply it's their song "Wonderful Saving Love". Jenny tells Mitch God will be special love every day here in their song "More And More Like Jesus" while sitting down. Ben tells Mitch that playing V-ball was a good idea but for a fun minute but Mitch tells Ben about Jesus. He leads the gang into the song "I've Been Redeemed", They also just lead simply one more terrific song that the name of the title "Kids Telling Kids" from a fun applause.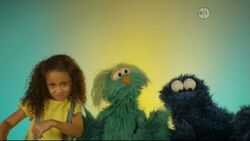 OUTRO 1
Cookie Monster, Rosita and a girl dance fast and slow. Hmm Hmm Hmm Hmm Hmm. Hey. There Are So Many Cool Animals In The Big Big World And So Many Great Facts To Know About Them. One Way To Find Out More Is To Read. Go To Your Local Library And Get A Book About Your Favorite Animal.
Community content is available under
CC-BY-SA
unless otherwise noted.