Miss Carlotta's Pool Walk was a 1983 Punky Brewster program. Miss Carlotta learned that Punky was using a pool walk. Fundings on this: Public Television Stations, The Arthur Vining Davis Foundations, and Johnson And Johnson Family Of Companies. 2 sponsors on this: "C", 7. The end credits feature Silly Songs from 1996. A title, outro three.
Catalogue Number: 6509
Title Date: January 9, 1983
Miss Carlotta took Punky to a pool walk.
Picture
Segment
Description
COLD OPEN
Clover says today that Punky wants walk pool.
FRAME 1
Henry tells Grandma that pool walks was a good idea just to do pool tricks.
Song
Cookie Monster sings "C Is For Cookie".
(EKA: Episode 0372)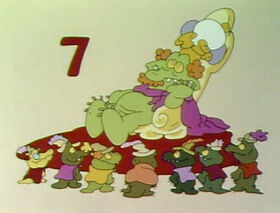 Cartoon
The Alligator King
Artist: Bud Luckey
(EKA: Episode 0411)
Song
Bert sings "Doin' The Pigeon". (intro verses cut)
(EKA: Episode 0536) (Season 5 premiere)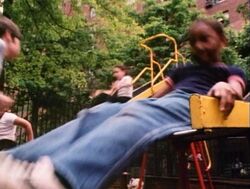 Song
Children of kids sing "We All Sing With The Same Voice".
(EKA: Episode 1708)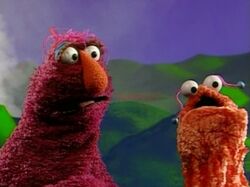 Song
Telly sings "My Outer Space Friend" as he gazes his orange fun martian.
(EKA: Episode 3645)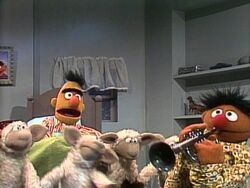 Song
Ernie sings "Dance Myself To Sleep".
(EKA: Episode 1705) (Season 13 finale)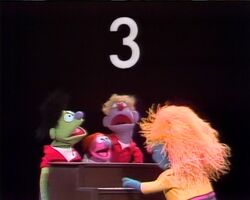 Song
Little Chrissy And The Alphabeats sing "Count It Higher". (Ending Cut)
(EKA: Episode 0553)
FRAME 2
Clover tells Robosoft Six to know that on the second fun episode of the 6:30 show Super Why will be Hansel And Gretel Season 1 Episode 2 story answer is Ask First but Alpha Pig's using to not use his breadcrumbs, footprints, or here loaf of bread but they're alphabet crumbs. Here Robosoft Five tells that on the 8th fun episode of the 6:30 show here Rapunzel that is very unsafe to go when her hair's long, but safe to go when her hair's short. Here Robosoft One knows where Cole and Tiptie watch 6:30 shows they love the most. Punky saw Henry's home.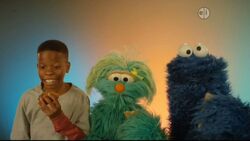 OUTRO 3
Cookie Monster recites a poem about being kind, and demonstrates kindness by sharing a cookie with Rosita and a boy. Hey. I Just Love How Different All The Creatures That Live Here In The World Tree Are. You Can Meet A Lot Of Different Animals, Too. Visit The Zoo, And, Maybe You Can Come Back And Tell Me About Some Animals That I've Never Met. See Ya.
Writer By: Mitchell Kriegman
Directed By: Tom Cooke
Cast
Punky: Soleti Moon Frye
Clover: Holly Gauthier-Frankel
Little Chrissy: Christopher Cerf
Bert And Cookie Monster: Frank Oz
Telly: Martin P. Robinson
Martian: David Rudman
Silly Songs
The Honker-Duckie-Dinger Jamboree
The Batty Bat
I'm Proud To Be A Cow
Everything In The Wrong Place Ball
This Song Is For The Birds
There's A Hole In The Bottom Of The Sea
Captain Vegetable
Keep The Park Clean For The Pigeons
Love In The Junkyard
Transylvania Polka
Oh Look What Our Baby Can Do
Big Round Nose
The Elephant Elevator Operator
The Boogie-Woogie Piggies
Monster In The Mirror
Special Thanks To: Mitchell Kriegman, Tim Lagasse
Community content is available under
CC-BY-SA
unless otherwise noted.