Kids For Character Sarah's Cartwheels Do First Adventure is the first of the 2 Kids For Character programs should do. Hosted by Tim Selleck. It provides the ProBook  version of Kids For Character on April 23 1996 to promote 30 favorite television and video characters simply one fun program. This also know that feautring some scenes from The Puzzle Place, Barney, Scholastic's The Magic Schoolbus, Lamb Chop's Play-Along, Nick Jr.'s Gullah Gullah Island there, and Babar. Plus in the program, some fun special appearances by The Cat In The Hat, Fred Flintstone and Barney Rubble, Garfield, George Jetson, Kino from PBS hit Storytime, Madeline, Ronald McDonald from the McDonald's company, Peter Rabbit based on the classic stories of Peter Rabbit, Warner Bros. hit Scooby-Doo, Eric Hill's Spot, Thomas the Tank Engine, Woody Woodpecker, Yogi Bear and Boo-Boo, and their special guest Eddie Coker. Six kids for it: Michael, Sarah, Joey, Maria, Patrick, and Katie. No previews in beginning, for end. Title fun, outro one.
Catalogue Number: 6501
Title Date: June 9, 1996
Previews of The Muppet Movie. June 22, 1979. First movie.
Muppets From Space (Coming July 14)
The First Snow Of Winter (Coming Fall 1999)
Baby Geniuses
The Wind In The Willows
Bear In The Big Blue House
The Wubbulous World Of Dr. Seuss
The Great Muppet Caper
The Muppets Take Manhattan
Picture
Segment
Description
PLOT
Learn the 6 pillars of character with the Kids for Character kids and more TV show characters like Barney, whole gang from The Puzzle Place, cast of The Magic Schoolbus, Lamb Chop, Binyah Binyah, and Babar.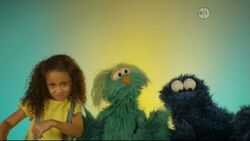 OUTRO 1
Cookie Monster, Rosita and a girl dance fast and slow. Hmm Hmm Hmm Hmm Hmm. Hey. There Are So Many Cool Animals In The Big Big World And So Many Great Facts To Know About Them. One Way To Find Out More Is To Read. Go To Your Local Library And Get A Book About Your Favorite Animal.
No previews in the beginning and ending.
Community content is available under
CC-BY-SA
unless otherwise noted.