Gals And Doll Girls was a 1980 title which Punky thought that dolls used from toys. Two sponsors on this: "E", 7. The end credits feature Cheep Thrills. Title seven, outro one.
Catalogue Number: 6107
Title Date: January 19, 1980
Punky learned that gals and dolls were in a parody of Guys And Dolls her movie.
Picture
Segment
Description
COLD OPEN
Clover says that today Punky will be using gals and dolls.
FRAME 1
It was morning. Three girls fell fast asleep. Grandma talks to Jerry about good news there for girls. Brandon was licking Punky's face but then ruined that tent together. It was morning. Marko took off her sleep mask. She also tells Punky that dolls was a good idea. Jerry says good morning to three girls then they talk about their sleepover last night. Jerry saw a doorbell rang for a delivery. Mrs. Crane came by. Grandma tells three girls that on the radio this morning were babies. They also know that was a fun success.
Game
Guy Smiley hosts a game show "What's My Letter" with Prairie Dawn about the letter E this fifth letter in the alphabet that comes after D before F sixth letter.
(EKA: Episode 0370)
Audio
The Muppet Alphabet Album (1971)
Video
Awesome Alphabet Collection (May 7, 2019)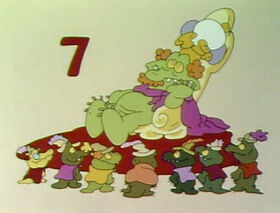 Cartoon
The Alligator King
Artist: Bud Luckey
(EKA: Episode 0411)
FRAME 2
Mrs. Johnson gave girls their list their butter meant show list. Then another doorbell rang. Simply it's still Henry. That was a time they've had in days. Soon Jerry came back. Everyone thought that doll was a fun success same as Punky did to be friends again.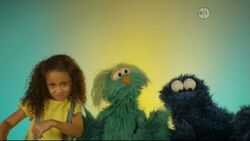 OUTRO 1
Cookie Monster, Rosita and a girl dance fast and slow. Hmm Hmm Hmm Hmm Hmm. Hey. There Are So Many Cool Animals In The Big Big World And So Many Great Facts To Know About Them. One Way To Find Out More Is To Read. Go To Your Local Library And Get A Book About Your Favorite Animal.
Writer By: Mitchell Kriegman
Directed By: Tom Cooke
Cast
Punky: Soleti Moon Frye
Clover: Holly Gauthier-Frankel
Guy Smiley: Jim Henson
Prairie Dawn: Fran Brill
Cheep Thrills
Sing Me A Silly Song
The Room Is Full Of Chickens
The Honker-Duckie-Dinger Jamboree
Captain Vegetable
The Ballad Of Casey McPhee
Honk, Bang, Whistle And Crash
There's A Bird On Me
The Telephone Opera
Mary Had A Bicycle
Itch And Scratch
The Boogie-Woogie Piggies
What Do You Do With A Fruit
Lambaba
The Sneeze Song
Monster In The Mirror
Long Time No See
Pigeons On Parade
Sing Me A Silly Song (Reprise)
Special Thanks To: Mitchell Kriegman, Tom Leigh
Community content is available under
CC-BY-SA
unless otherwise noted.